Below the blurb is the entire review of
The Missile Game from Men Reading Books.
Congratulations Glenn!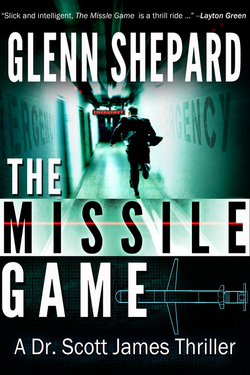 "You can read it on one flight."
An Amazon Kindle Bestseller

"With a little massaging, this could be developed into a season on 24; it's that fast. Starts off running, then speeds up, before ending with a sprint to the finish. Could easily be read in one or two sittings - it's that engrossing."




---
From
Men Reading Books:
You'd think that the best drone pilots would be some hot shot pilot with a thing for video games. At least it'd be someone in the military or with military training. What if (to steal a line from Top Gun), "the best of the best" was first identified after winning some major video game competition. Who was then contracted by the CIA to work out of Afghanistan and Iraq. Once his tour was up and he returned to the US, the Army hired him as an independent contractor where was paid by the kill and proportional to the target's importance. A cool million dollars for a few hours work was the norm. One problem is that our drone pilot wants to work remotely from the US despite claims from the current administration that no such thing is happening. The drone pilot's code name: Alpha Charlie.


But, there is an ISIS cell coming together with the intention of finding Alpha Charlie's new command center and killing him with a barrage of Silkworm missiles. Sleepers are called in and the hunt is on.

Dr. Scott James is a plastic surgeon outside the major population centers of NC somewhere between Chapel Hill and Charlotte. Son of a tobacco farmer who got off the farm, but came home to practice and set up his own outpatient surgicenter. He and his anesthesiologist are doing the last case of the day. A little nip and tuck on his office manager. No issues other than she's quite slow to wake up, so he goes down the hall while his partner sits tight until the patient awakens.

A loud thud and trays fall. Dr. James beats feet down the hall into the OR where he finds his partner with 9mm in his forehead. Cops come and promptly put Scott under arrest despite the lack of real evidence. News gets out and the local paper declares Scott to be The Killer Doc. And his wife now has a restraining order to keep Scott from his kids while she pursues a divorce. Bail is set at $2 million. Scott's not going anywhere.

To make things worse, in the previous months, the local hospital administrator (Herb) has bullied the Board to revise its charter to allow him to take over all decision making. His goal is to sell the hospital to a for-profit group. Dr. James feels this is not in the community's best interest, does some digging, and sends a commentary to the local paper effectively stalling most negotiations for purchase. So Scott and Herb, once friends through high school, are now at each other's throat. And you can guess the company that Scott's wife has been keeping.

A silent benefactors posts Scott's bail. Once out, he confronts Herb, the ISIS cell is gearing up for the strike on Alpha Charlie, and his office manager turns out to have skills Scott was unaware of, getting him out of more than one jam.

What appears to be three unrelated stories starts to come together about halfway through this relatively short, but intense tale of a good guy wrongly accused. Glenn Shepard is himself a plastic surgeon based in Virginia and The Missile Game is his first book (a January 2015 release) and a 2nd is also out (a February 2015 release). For a rookie at the thriller game, Shepard displays some real story telling chops. The book opens with a murder and a few drone strikes and then accelerates from there. Shepard skillfully weaves divergent storylines into a coherent, and utterly believable tale of the first attempt by ISIS to bring their jihad to US soil. A rip roaring thriller full of plot twists, skillful and lucky escapes, double and triple crosses, shifting loyalties and still manages to sneak in a quick romp between the sheets.

Don't worry too much about convoluted back story, or in depth character development. With a little massaging, this could be developed into a season on 24; it's that fast. Starts off running, then speeds up, before ending with a sprint to the finish. Could easily be read in one or two sittings - it's that engrossing.

East Coast Don, Men Reading Books.com

The Reviews are still pouring in...
This is from the book market website Net Galley:
Jamie Baynes (Reviewer) has just completed feedback for The Missile Game.
Rating: 4 out of 5 stars
Full Text: You know what the say about judging a book by it's cover? You can DO that with this one. Exciting cover, exciting book. Recommended. (Amazon reviewed).
Would you purchase this book for yourself or a friend? Yes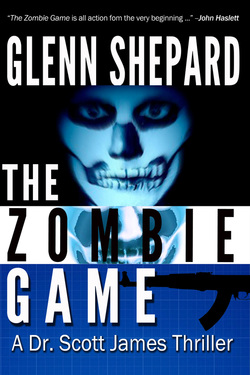 WANT TO KNOW HOW ZOMBIES ARE MADE?


"Glenn Shepard writes thrillers that cut like a surgeon's scalpel: sure-handed, intense, and unerringly precise." - Layton Green, Bestselling Author of The Dominic Grey Series

Dr. Scott James Returns


ISIS terrorists are plotting to kill the Pope during his visit to America.

The plan: Hijack a hospital ship in Haiti, convert it to a missile launcher, and cruise into Miami Harbor, unnoticed.

Their only obstacle: Dr. Scott James is a volunteer on the ship, and he's recruited a squad of Haitian zombies to stop the attack. But nothing adds up … until the last seven minutes.


* * *

"An action packed thriller, cleverly plotted, frighteningly imaginative, and shockingly good. The Zombie Game will leave you breathless."
Marty Weiss, author of The Alchemist Agenda and The Flamingo Affair.

"The Zombie Game has it all ... twists, turns, and tons of action."
Ben Lieberman, best selling author of Odd Jobs & The Carnage Account

----------------------------------------------------------------------------------

MEET JAKJAK, DEAD MAN
Jacques Jacobo, "Jakjak," is the Haitian Finance Minister's personal bodyguard. He's just taken two bullets in the chest trying to stop an assassination attempt on his boss.

DR. SCOTT JAMES, TARGET
Dr. Scott James is a volunteer surgeon on a hospital ship anchored off the coast of earthquake-ravaged Haiti. He's got his share of personal demons.

OMAR FAROK, MASTERMIND
Omar Farok wants to rule ISIS, and the world. He's just taken over the hospital ship and converted it into a launch platform for a nuclear strike on Miami.

SANFIA, VODOUN BOKOR
Sanfia is the most powerful Vodoun priestess in Haiti. Omar Farok will pay her big money to turn Dr. James into a zombie.

ELIZABETH, THE WILDCARD
Beautiful Elizabeth is one of the most notorious freelance operatives in the world. She's come to Haiti to defuse the bomb.

---
More Mystery House News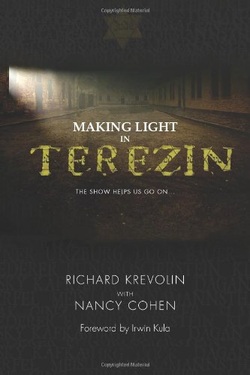 Mystery House is proud to sponsor Richard Krevolin's film on PBS.


Making Light in Terezin


Richard Krevolin's immensely warm film, Making Light in Terezin, follows a group of researchers trying to piece together the story of a cabaret theater that formed during the Holocaust. Told through interviews with survivors and Krevolin's tone-perfect narration, the film strikes a distinctly hopeful note. The audience is treated to the warm faces of Holocaust survivors as they are today, one of whom, Pavel Stransky, a crisp, smiling nonagenarian, carries much of the storyline along and is wonderful to watch. Other interviews include Rabbinical historians, researchers, and artists, each discussing the themes of healing and carrying on, the outcome of which is a beautiful story, accentuated by a surprise story-within-a-story that brings the film to a satisfying end. Mystery House is very pleased to present the film's companion book, also titled, Making Light in Terezin.
---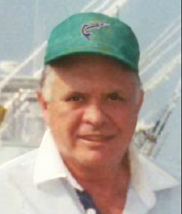 Featured Author of the Month:
Dr. Glenn Shepard
Glenn's first novel,
The Missile Game
, went to #9 on the Amazon Kindle Bestseller List in Modern Pulp! Congratulations Glenn!
Glenn's very colorful webpage is
www.authorglennshepard.com
Dr. Glenn Shepard is
currently writing the third installment of the Dr. Scott James Thriller Series,
The Ebola Game
---